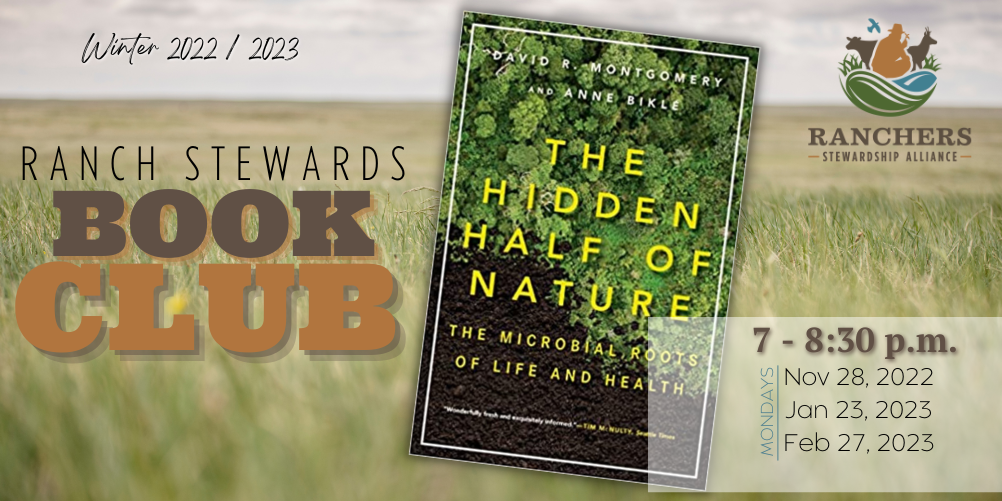 The Ranch Stewards Book Club is free and open to anyone who wants to join. We're here to read, learn and grow together!
The book for our 2022/23 Winter Book Club will be "The Hidden Half of Nature." All complimentary copies have been claimed, but feel free to purchase the book and join along!
"Sure to become a game-changing guide to the future of good food and healthy landscapes." – Dan Barber, chef and author of The Third Plate
Prepare to set aside what you think you know about yourself and microbes. The Hidden Half of Nature reveals why good health – for people and for plants – depends on Earth's smallest creatures. Restoring life to their barren yard and recovering from a health crisis, David R. Montgomery and Anne Biklé discover astounding parallels between the botanical world and our own bodies. From garden to gut, they show why cultivating beneficial microbiomes holds the key to transforming agriculture and medicine.
Here's our reading plan:
7 p.m., Monday, Nov. 28, 2022: Discuss Intro + Chapters 1-5 (pages 1-88)
7 p.m., Monday, Jan. 23, 2023: Discuss Chapters 6-10 (pages 89-190)
7 p.m., Monday, Feb. 27, 2023: Discuss Chapters 11-14 (pages 191-257)
Meetings will be conducted via Zoom. CLICK HERE to register.