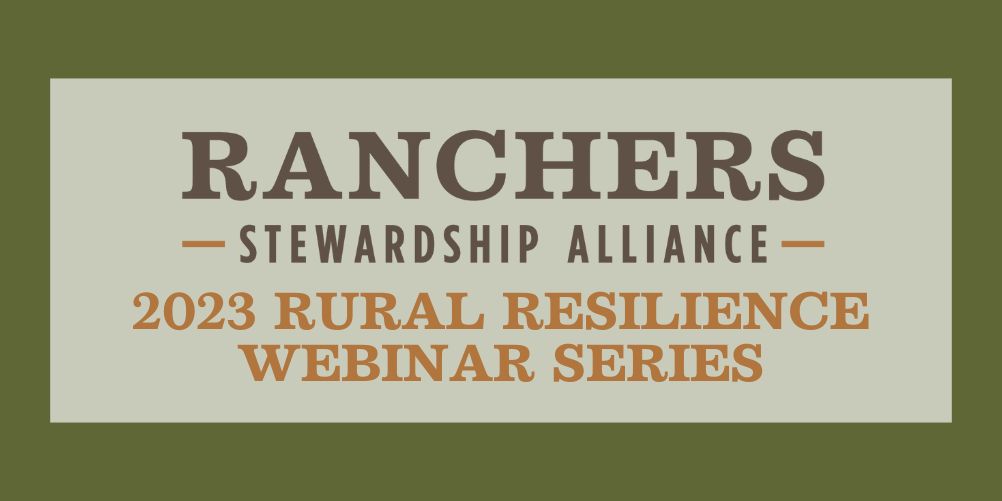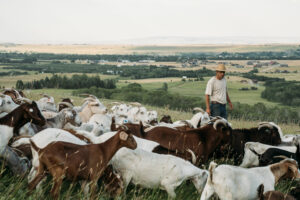 Growing our ranching and rural community's financial, ecological, and social resilience with experienced speakers on soil health, cattle selection, small ruminant grazing, and rangeland monitoring, the Ranchers Stewardship Alliance "Rural Resilience" webinar series is back for a third year!
Originated as a natural solution to an invasive weed problem, Healthy Meadows LLC has since embraced small ruminant grazing. During the third of four "Rural Resilience" webinars, we'll discuss the history, management, ecology, and income potential for this holistic approach to diverse landscape management with Ivan Thrane:
Ivan Thrane and his wife manage a weed-grazing herd of goats in and around Red Lodge, Montana. In 2008, Ivan was gifted a portion of family ranch land from his grandmother, and encountered a landbase dominated by knapweed. Ivan dreamed of making a living in agriculture, but knew that something had to change with their approach to land management. The change would be an opportunity to learn and try something different.

After studying Holistic Resource Management and discovering how much goats relish knapweed and other noxious weeds, Ivan and his wife started small with 9 goats and eventually built a herd of over 500 hundred head, which they manage using principles of rotational grazing. Through their grazing service business, Healthy Meadows LLC, they work with both public and private landowners and move with their three children, their herd of goats and at times sheep, and their working dogs all over south central Montana.

From swimming goats to an island on the Clarks Fork River, to trailing them hundreds of miles on hoof and foot, Ivan has learned a lot about small ruminants, the plants they like to eat, and the stories the land has to tell.
Explore the benefits of goats, an animal as stubborn and persistent as the very plants they love to eat during this interactive webinar! It will be held via Zoom from 7-8:00 PM MST. CLICK HERE to RSVP and get the Zoom meeting link.
The final Rural Resilience webinar will be held the third Thursday in April:
The Ranchers Stewardship Alliance (RSA) is a rancher-led, grassroots organization, dedicated to improving the quality of life for rural communities throughout the Northern Great Plains. Through collaborative conservation projects, rancher education events, and local community outreach, Ranchers Stewardship Alliance works to strengthen our rural community, economy, and culture for generations to come.